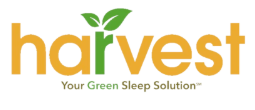 We are the Organic, All Natural Sleep Surface alternative unlike, other mattress offerings. All of our products are made here in the USA without the use of petroleum-based polyurethane foams.
Our sleep surfaces are assembled using only materials free from toxic flame retardants, dangerous pesticides, volatile chemicals, and gases. Our Harvest Green Sleep products offer a safer, more luxurious, healthier sleep surface that utilizes all-natural eco-friendly materials. You will find no generic digital renderings of our mattresses here. We are very proud to show you exactly what's in our products!
HANDMADE IN THE USA
We are the Safe, Natural Sleep Surface alternative, unlike other online mattress offerings. All of our eco-friendly products are made here in the USA.  We are one of the few mattress brands you can research online and  test in store. Buying locally and supporting your community as they support you.
CERTIFIED ORGANIC
We use only the best certified organic Wool, Cotton, and Latex. Our cotton and wool are completely natural and processed to meet the Global Organic Textile Standards (GOTS). GOTS is the worldwide leading textile processing standard for organic fibers, including ecological and social criteria, backed up by independent certification of the entire textile supply chain. Our certified organic Dunlop latex is GOLS certified as well. The GOLS Certification is the premier certification class for latex mattresses. Our GOLS certification follows the organic latex from the organic latex farm, to the farmer, to the manufacturing process, to shipment. GOLS certification also requires organizations to follow certain guidelines in the way they treat the people who make their products as well as how its process affects our planet.