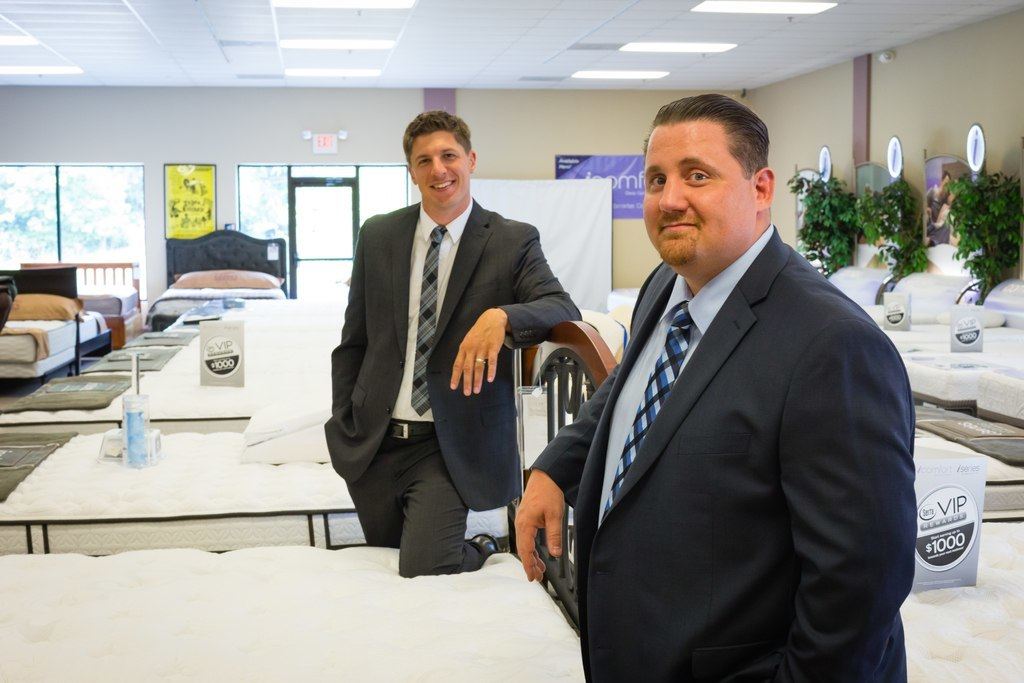 In the 18 years Ben McClure and Jeff Giagnocavo, co-owners of Gardner's Mattress & More, have known each other many things have changed in the world of mattresses but one thing has always remained constant for them – a commitment to 5-Star Service, Experience and Products for their customers, a building block for success started by Jim Gardner in 1990. This October they celebrate 30 years of serving Lancaster County.

They met as buyer and seller. Jeff as a sales rep selling products to the original Gardner's Bedrooms and Ben as the showroom and selling manager. In 2010 Jim decided to retire and Jeff & Ben decided to partner together and forge a path of their own doubling down on what they saw as a tremendous void in the mattress industry – a true 5-Star Experience.
Along the way they've written helpful buying guides, held seminars and events to connect with the community so they understand how their sleep needs can fit what Gardner's Mattress & More has to offer. They've pioneered new shopping concepts like the Dream Room and their customer lounge and give back to the community with their everyday food drive called Gardner's Gives Back.

In February of this year, Jeff authored a new book titled Sleep Better. McClure says, "It's the culmination of his experience and knowledge base and clearly identifies where people struggle to get quality sleep and how we might be able to help them in our store." 
Jeff adds "of course nothing in the book was written in a vacuum. We succeed together as a team and at Gardner's I'm the abrupt, hard charging personality in the company always pushing to do better. Along the way Ben's steady demeanor, customer service and leadership skill has been a perfect fit with my skills of marketing and customer experience touch points, there is no way each of us reaches this point in time alone. Our company and our customers are truly better with us working together."
Coming off their 11th straight Reader's Choice Award for Lancaster's Favorite Mattress Store, they are now celebrating their 30th Anniversary of servicing Lancaster County. What Jim Gardner began in 1990 they carry on in 2020, and beyond.

In the 30 years time a lot has changed in mattresses and much of it has been experienced in the walls of Gardner's. Waterbeds saw their heyday, plateau and now remain with the most die hard sleepers. Termpur-Pedic arrived and transformed the mattress world with Gardner's being the first retailer in Lancaster County in 2002. Since then they've maintained this partnership for 18 straight years. A stat not even the biggest of big national mattress chains can make. Mattresses that were once built as two-sided, "flippable" models went away, but are now back in full force and on display in the Gardner's Mattress & More showroom with more than 25 on display.

But the last 5 years have been the most turbulent. As online direct to consumer sellers flooded the market with fanciful claims of a "one size fits all" mattress along with new service points which Gardner's choose to accept as a challenge to do better for their customers. Jeff says "I wish it were that easy, our job would certainly be easier. It's funny,  if one size fits all were true why then do our customers demand selection and choices?" He adds, "but the online companies' return policies were what made us evolve our customer exchange service into our Wake Up Happy Guarantee – if you don't love your mattress, we'll exchange it for one you do love with no fees, costs or delivery charges."

The reality is that buying a mattress simply isn't objective, it's highly subjective. "We can offer, spec for spec, the highest quality mattresses at each price point possible. And yet when we put 10 people on any one mattress we will get 10 very different opinions. Our bodies are all built differently, and we all have unique aches and pains along with some having intense medical issues. While we aren't doctors and don't pretend to be, everything we demonstrate and discuss with our customers can be felt and experienced by them in a positive way in which they feel better. That's our job – discover how our sleep systems fit your needs." Giagnocavo says.

"It's funny – in 30 years time Gardner's has as much tenure selling mattresses as the top 5 online companies combined, twice." Ben says. Continuing on he says "You know, we have a choice – to make customers happy or upset, we choose to make them happy. And the fact that 7 days a week any one of our customers can visit us means we are always actively working to help our customers wake up happy and earn a 5-star review from them."
"There is of course value in online shopping, for some items. But when it comes to a mattress, the one item in your home getting more time with your body than anything else you may use, we feel it's an important purchase to consider and shop for in person with the right store," says McClure. 
The Gardner's team has developed a simple process devoid of the "buy it today" high pressure and dubious sales tactics. Jeff says "you'll see us out and about in town, our faces are on the side of the truck. This is our company and every action is a positive representation of who we are as people and our commitment to helping our neighbors be happier, healthier and more productive."After 30 years in business the two plan to be around much longer, with each having their own children, and at times helping to unload trucks and push the broom, there just might be a third generation in line to help Lancaster County continue to wake up happy. Visit Gardner's this month while they celebrate all month long with 30 Days of Prizes & Gifts – you can learn more about their 30th Anniversary Event by visiting here.