Trust Your Sleep to Lancaster's Favorite Mattress Store
Our customers have voted us their favorite mattress store 9 straight years, making Gardner's THE ONLY destination to trust your sleep to. We work hard for this distinction and will do the same for you to. But don't just take our word for it, there's over 200 5-star reviews at the links below.
WAKE UP HAPPY, GUARANTEED
The Gardner's Wake Up Happy Comfort Guarantee – Offered on any mattress purchased that is not a floor model or otherwise ineligible purchase. Try your new mattress for 120 nights, if after 60 nights you feel it is not the right mattress for you we will happily offer one (1) exchange at no charge or expense to you.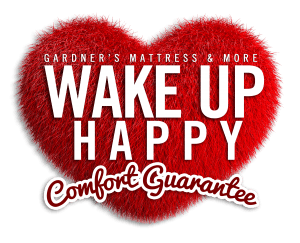 A BRIEF HISTORY OF GARDNER'S…
If you're reading this, you probably know a little bit about Gardner's, but we'd love to share a bit more of our story. Selling a mattress is not something we take lightly. You are our Lancaster neighbors. Our friends and even our family. Your sleep, and ultimately your health and well-being are important to us. If we expect you to trust your sleep to us, you need to know who we are, and we're happy to share.
We've been locally, family owned and operated since 1990 when we opened as a waterbed store under previous owner Jim Gardner. Ben McClure started for Jim in 2000 and helped transform Gardner's into a destination for better sleep products and superior service. Jim retired in 2011 and Ben, along with friend and bedding industry expert Jeff Giagnocavo, purchased Gardner's and transformed it into THE PLACE Lancaster County trusts their sleep to.
Being a small business owners in tough economic times, we fully endorse supporting locally owned businesses and we strongly encourage you to do the same with your next mattress purchase. Our staff strives to do their very best for you, unlike the big-box chain store down the road just trying to get your money. Our prices are competitive, selection is unparalleled, and service is superior. You have our word.
But truly…this About Us page is not about "us". It's about you, the person looking for a better night's sleep. We're all about helping our customers wake up happy and pain free and it's something we take very seriously.
TRY BEFORE YOU BUY
The Dream Room at Gardner's Mattress & More is a private mattress testing room designed to allow you a unique opportunity to "try before you buy" any mattress in our showroom, in a no-pressure, quiet environment. The room is essentially a sleep sanctuary, adjacent to the showroom, totally private and void of salespeople and other customers, so you can snuggle in and get comfortable. Gardner's is the only mattress store in Lancaster County that offers such an experience to you.
LANCASTER'S FAVORITE MATTRESS TEAM
Meet Ben
I've been with Gardner's since 2000, when I was hired by Jim Gardner to deliver mattresses. A lot has changed since then! I still do a little bit of everything at Gardner's, but my main responsibilities are finding people who need a good nights sleep (marketing) and paying the bills (accounting). Of course, I love working with customers so you can catch me on our showroom floor from time to time. Over the years at Gardner's, I've personally affected the lives of thousands of Lancaster County people through a better nights' sleep and it's not something I think lightly of. It's a big responsibility. Currently, I sleep on a Carpe Diem bed which was a Swedish made mattress we carried at Gardner's. It's a great bed but if I end up switching in the near future, it would likely be to an adjustable Posh & Lavish natural latex mattress. I grew up in a suburb of Philly but have called Lancaster home since 1996. Most of my free time is spent with my wife and two kids. I am a huge baseball fan, love to golf and enjoy running. I hope to meet you sometime and impact your sleep too!
Meet Jeff
I co-own Gardner's with Ben. Originally, Gardner's was a customer of mine (when I was a manufacturer's representative) and when Ben asked me to be his business partner once Jim Gardner decided to sell the business, I jumped at the opportunity. I have been a business owner of some sorts since the age of 14, cutting grass in my neighborhood. I love everything about running a business, but most of all I love the fact that what we do helps our customers be more productive and that our business helps to support our local community in many different ways. I like most when we can open our customer's eyes to everything that is possible with the perfect sleep system that fits them and their needs. Being able to help someone with back pain, or any other pain they may have, get through the day is great. Presently, I sleep on a King size Pranasleep adjustable mattress set. I was born in Stratford Ontario Canada (I do not know Justin Bieber, sorry!) moved to Reamstown in 1990 and as I've spent more than 2/3 of my life here I have grown to love our Country as though I was born here. In my free time, you'll find me playing with my two boys, spending movie nights with my wife, helping with my son's cub scout pack, playing with our two rescue dogs Gizmo and Zeus, and once all that is done getting out on the open road on my motorcycle.
Meet Drew
Hello, I'm Andrew (Drew for short) and I'm the Sales Manager at Gardner's. I love working for a family owned business. Being able to interact with and support the local community means a great deal to me. There's no greater feeling in the world than helping someone achieve a positive impact on their life, whether it's a customer through a sleep system or a fellow co-worker helping to realize his or her goals. Sleep is the single biggest contributor to overall health and the ability to help someone achieve a level of sleep that's conducive to an overall healthy lifestyle for the individual or the entire family is an honor to have. I sleep on a king size Serta iComfort Savant Plush but I've got my eyes set on one of the amazing Hypnos beds on the Gardner's showroom floor. I was raised in Lancaster County and am a graduate of Hempfield High School and Hofstra University (Long Island). I love music, specifically active and classic rock. I've been classically trained on the piano and have played for almost 30 years. An avid roller coaster fan, I love to spend my summer's at various amusement parks throughout the country getting my adrenaline fix. I'm also a huge sci-fi fan – Star Wars and Star Trek are two big passions of mine. You can usually find me at the nearest Star Trek convention talking shop with my fellow Trekkies.
Meet Andy
Hi there, It's Andrew! I'm the Operations Manager here at Gardner's. I enjoy working at Gardner's because the staff has great personality and it's a small company with plenty of positive energy. Getting a solid 7.5-9 hours of sleep per night is possible and a nightly routine can help, however the right mattress can make all the difference in the world. Currently, I sleep on a Tempur-Pedic Cloud Supreme mattress. I've lived in Lancaster County for the past 28 years and was raised in the Elizabethtown area. In my free time I enjoy relaxing with my family, listening to music, watching the LA Lakers occasionally win a basketball game, cooking and travel. My wife Melissa runs our photography business, Hatha Photography. Check out her work on Facebook! She has a great eye and loves sports and natural light portrait photography. She is also the Director at the Community Cupboard, which is Elizabethtown's local Food Pantry.
GARDNER'S GIVES BACK
Doing more in Lancaster County Each and Every Day to Lift Others Up That Need a Helping Hand.
QUICK LINKS